RSP Remembers
RSP Remembers
13 November 2019 (by admin rawdon123 (admin))
Pupils and staff across school come together for Armistice remembrance.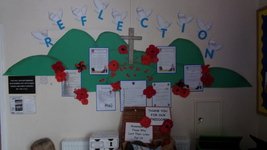 The school community gather in Collective Worship to remember the sacrifices of those that have fought for our freedoms.
Over the past week, children have learnt about the symbolism of the poppy across all year groups, and have contributed to a collective artwork.
Children enjoyed hearing the story of George and Jack, two young soldiers who had lied about their age to join the war effort. Our thoughts and prayers are with those who have fought and are currently fighting in conflicts, and with their families.